I remember doing something like this last year...
Anyways, since Alvin asked if I had any of my own...which I dun quite have...and haven't really drawn anything proper for a long long time...decided to start on an EVA one.
I'll have to retrace everything and redraw a lot but here is a rough idea of what it should look like. Just used flat colours to give the general idea. I'll probably move Rei's hands a bit...they dun feel quite right...but more or less this should be the composition of the final image...I made shinji small for fun XD btw...they are suppose to be standing in the elevator where asuka was changing into her test plugsuit in 2.0...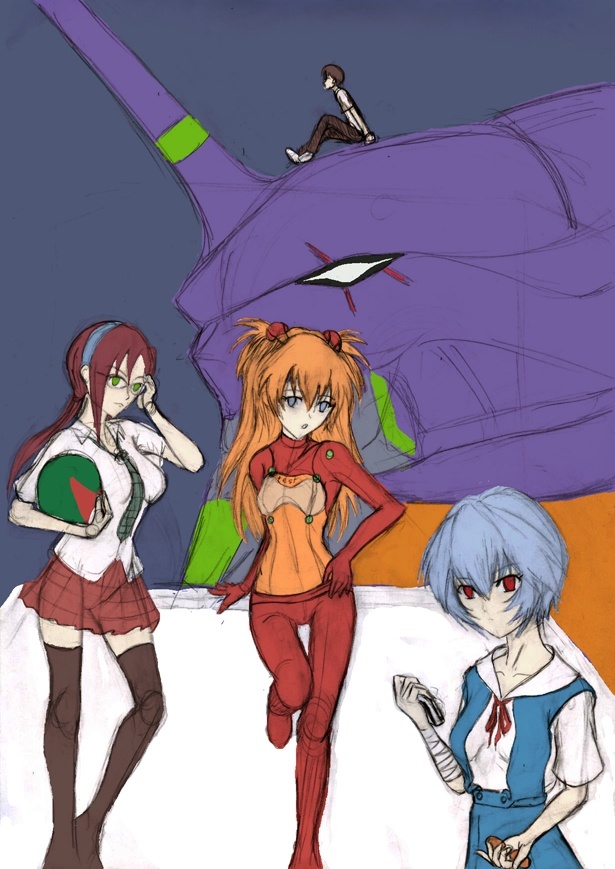 RANDOM THOUGHTS
But with a title like " You are (not) alone"...it looks more like a pic for a gal-ge or harem game. U can choose to play as shinji or whoever and can choose rei/asuka/mari/(misato?) routes...Special unlockable character...Kaoru...who can only play the shinji's route XD Other unlockables/expansion pack include gendou/yui/kaji/loli asuka/loli rei/clone rei/rest of NERV HQ/SEELE?/classmates (hikari...etc)...
If only...